During the eight-week drama workshop in Beirut in 2014, we looked after the children of the women that participated in Antigone of Syria. A small collection of art therapists worked with the kids to help them explore their artistic side. See some of the work they produced below.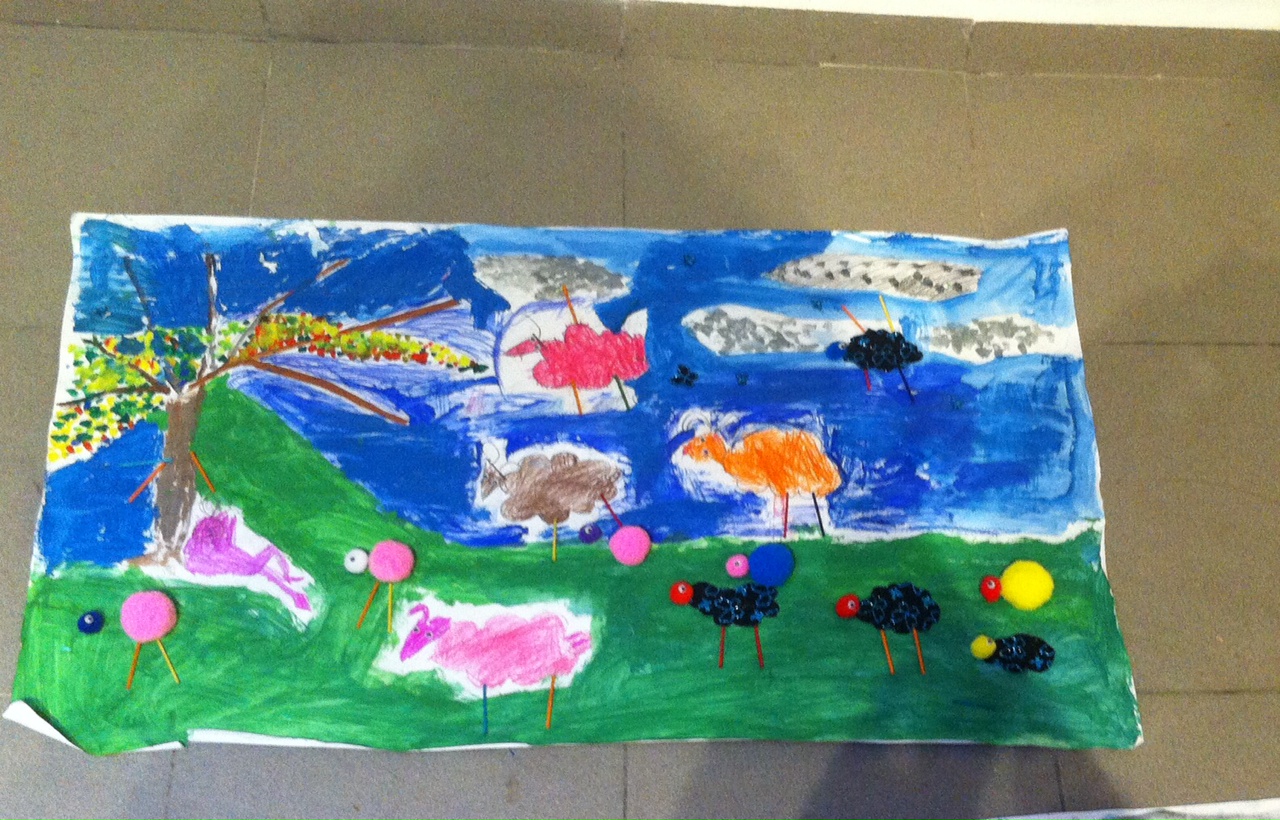 THe NURSERY TEAM
Alice Alkahteeb ran the art therapy program and is a graduate of the Fine Arts Department at Damascus University. She holds an MA in sculpturing. She has taught art in private and public schools in Syria and Lebanon. She has participated in many solo and collective exhibitions in Damascus, Beirut and Abu Dhabi.
"I have had experiences in the past of working with children who have witnessed violence but this time I found it particularly difficult. Most of the children that we are working with haven't been to school in three years. They have forgotten everything about discipline andcommitment. It has been especially difficult to get them to use their imagination compared with psychologically healthy children.
"In the beginning they all said, 'We don't know how to paint.' Today, after a month of really hard work on our side and theirs, we reached a very good stage and we are achieving good results. We are always working on large paintings that we make together. This is helping them think of themselves as part of a group rather than as isolated individuals.
"I have also noticed that, compared to when we first met, the kids all want to experiment with new things, and they are committed to finishing every project they start. The shift in their behaviour and productivity has been very noticeable. It is our hope that this change will stay with them long after finishing this project."
Majd Al Hamwi assisted in the running of the art therapy program and is a graduate of the Fine Arts Department at Damascus University. He has extensive experience working with children inside and outside of Syria. He has participated in several workshops including mental health support, first aid in mental health, and using theatre, music and painting in supporting children's mental health.
"I find working with children so rewarding as they have limitless energy and that helps give me even more. I think that working with children has mutual benefits for both parties and I hope that my work with these children using the arts will help them be a little bit happier."